Lansing Bobcats won four events at the Section 4 Class C meet in Greene NY on Thursday May 22.  A brief but torrential rain and hail storm cleared the field for about 20 minutes before competition resumed as the sun came out.
Max Jordan won the pole vault and set a new school record of 14 ft 7 inches.  Ben Roarke placed 2nd clearing 13 ft.   In girls pole vaulting, Hayley Wigsten placed 3rd with 9 ft 6 in; Miya Kuramoto placed 4th and Emily Gallagher placed 5th, both clearing 9 feet.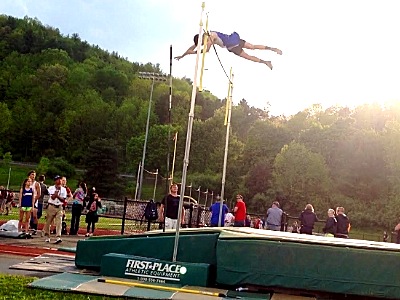 Anders Presthus won the shot put and and the discus, throwing 46 ft 5 in, and 149 ft 8 in. respectively.  Ben Roarke won the pentathlon.
Other results for podium finishers:
Ben Rourke: 2nd shot put with 45 ft 8.25 in;  2nd 110 meter hurdles in 16.15 seconds; and  3rd high jump clearing 5 ft 8in.
Austin Candea; 4th 100 meter dash in 12.00 seconds
Lyndsey Lehr; 3rd 800 meters 2 minute 28.89 seconds, 4th 100 meter hurdles  17.08 seconds.
v10i20