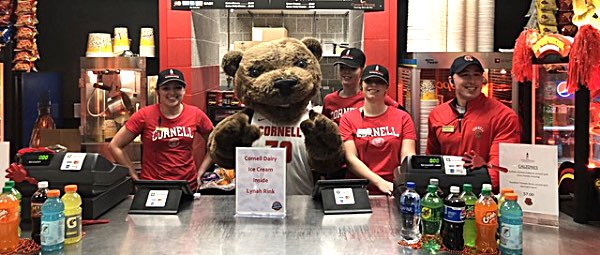 Cornell Dining is now responsible for concession operations at Cornell Athletics facilities, and Cornell Catering will manage events at Moakley House, the clubhouse at Cornell University's Robert Trent Jones Golf Course. Cornell Concessions began serving hungry Big Red fans at this past weekend's men's basketball and women's ice hockey games in Bartels Hall and Lynah Rink, there was a selection of snacks and drinks at Schoellkopf Field for the men's lacrosse home opener, and Cornell Catering will be operating at Moakley House beginning March 1st and opening the clubhouse on April 1st.
Cornell Catering is a unit of Cornell Dining, part of Cornell University's Division of Student & Campus Life. "What a great opportunity to team up with our divisional partners in Cornell Athletics," says Dustin Cutler, director of Cornell Dining, "and a chance to show off Catering at its best." Cornell Catering offers formal banquets for thousands, elegant weddings for hundreds, or intimate dinners for a few.
"We believe that Cornell Dining will provide excellent quality, selection, service, and affordability" to meet the event needs of campus partners and external clients, says Cindy Jefferson, director of strategic sourcing at Cornell Procurement and Payment Services. Cornell Catering has agreed to honor "outstanding contracts for catering and events, including pricing," that had been planned with Premiere Catering, the previous provider at Moakley House.
Cornell Catering operations manager Margaret Bruns will spearhead the new off-campus catering operation.
"Moakley House is such a wonderful venue for team banquets, family reunions, weddings, and other events," she says, "and we can't wait to create the best possible experiences for our guests right next to a picturesque golf course."
Cornell Concessions, led by Evan Fabrizio, dining manager, will provide a full range of snacks, meals, and beverages at Big Red games, finishing up the winter season at Bartels Hall and expanding into additional concession sites next month for Cornell's spring sports season.
v14i9