Spring break is upon us, and that means that young softball and baseball players have an opportunity to be coached by varsity softball and baseball players.  The Lansing Recreation Department offers baseball and softball clinics every year as part of the warm up to the baseball/softball season.  This year the baseball clinic is scheduled for next Tuesday, April 19th from 10 to Noon, and the softball clinic for Thursday the 21st, also from 10 to noon.
"It gives them a little jump start," says Lansing Recreation Director Steve Colt.  It's all about repetitions no matter what you're doing, whether it's reading, a physical activity, or whatever.  Repetitions make you better.  This is another place to get more reps in a different and fun setting with your friends over the vacation for a couple of hours.  It's a neat thing to do."
The clinics are open to all children from grades 1 through 6, whether they are from Lansing or not.  For Lansing kids it's a valuable ramp up to the Lansing Baseball Program (LSP) and Lansing Softball Program (LSP).  Those are among the Rec Department's most popular programs.  This year more than 300 kids are signed up.
The $15 clinic fee is donated to the varsity teams to help with their fund raising.  Part of the appeal is that the little kids get to interact with the big kids, many of whom participated in the clinics when they were small.
"Many years ago we closed the loop on this," Colt says.  "We've done it long enough so that the participants have grown up and are now the varsity team clinicians.  The players are now the clinicians for the kids who are coming through, and eventually those kids will become the clinicians.  The varsity players come out of their shell once they get into it, and they're really pretty good coaches because they remember back to the day."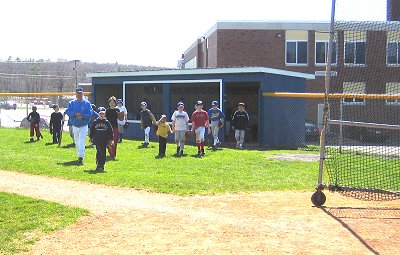 The free, annual Pitch, Hit, and Run competition is also part of the ramp-up to the regular season.  7-14 year olds compete in a number of events on May 7th starting at 11am.  This is a national event, with the highest scoring kids in the nation getting to compete at the major league all-star game.   Jim Strait is organizing the Lansing event again this year, with a cadre of volunteers.
"It's highly organized, and well run," Colt says.  "It's a lot of fun for the kids."
v7i15