The Ark that was built was not needed after all.  The rains have cleared, for the most part, and the Lansing Modified team has been able to get three more games in.  The Modified league has had to squeeze several games in over the last few weeks due to the rain.  This has caused the Bobcats to play four games in seven days and has put a strain on the pitching of their team.  A little tired, a little humbled but still having fun they made it through in great shape, changing their record at 4 and 1.
On May 9th it was Southern Cayuga's turn to venture out and come to Lansing.  Craig Moster picked up the win with superb pitching, and help from a solid defense, an outstanding offense and great relief pitching.  Southern Cayuga played well but they couldn't out hit Lansing as the Bobcats unleashed a storm of eleven hits including five thundering doubles by Brandon Mikula, Owen Davis, Patrick Judd, Nathan Bandler and Logan Osterman.  The team earned several walks by being disciplined at the plate and taking the counts full several times.  Brandon Davis wore down the opposing pitchers by taking over 24 pitches and earning three walks.  The final score was a crushing 17 – 8.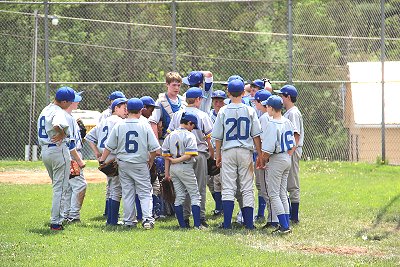 The next day it was Marathon's turn to do battle with the feral cats.  Osterman picked up the win as he combined with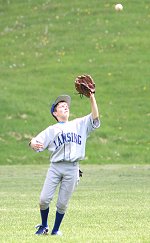 Corbin Atkins, Jared Strait and Mikula on 8 K's, several pop ups and only allowed 2 runs.  Osterman relied on the Strikeout with five K's.  Strait relied on getting the batter to pop the ball up and into the glove of Ryan Buchanan twice and once into the glove of Thomson Khan (TK).  A team effort by all players delivered the Bobcats to a victorious final score of 9 – 2.
With little rest but a lot of determination the Bobcats traveled down to Whitney Point where they faced their best competition yet.  The Whitney Point team was very well managed and kept their spirit up even though they were down for the first several innings.  They kept the game close enough to spring ahead and give the Bobcats their first loss in the last inning.  The final score was 10 – 9, Whitney Point.
The Lansing boys are keeping their heads up and looking forward to the rematch on their home field later this season.  Most coaches only teach teams how to win at all cost.  Coach Dan Cheatham and his assistant coaches also teach the players how to lose in those very few times that it happens to the Lansing teams.  The Bobcats do not play any game trying to lose, but winning is not the highest priority.  Development, integrity, sportsmanship, and teamwork are held above the big W.
v7i20