The local Lansing Pitch, Hit & Run competition was held on Saturday, May 7th at the ballfields.  Boys and girls between the ages of 7 and 14 competed by pitching 6 balls at a target, hitting 3 balls off a tee, and running from second base to home. 
In each age class, the winner of each event, and the overall winner traveled to Oneonta, NY on Sunday, May 15th for the Sectional Competition.
Representing Lansing in the Sectionals were:
7-8 Girls: Ashley Bell
7-8 Boys: Gavin Dowell & Liam McGreevey
9-10 Girls: Claire Dowell & Sierra Stallmann
9-10 Boys: Garrett Bell
13-14 Boys: Jared Strait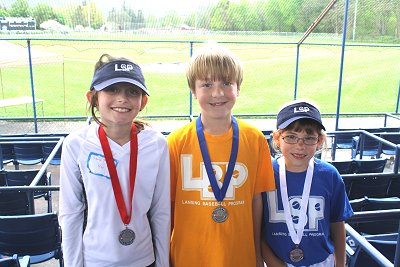 Tanner Winslow,  Luke Winslow, and Jerry Howser also qualified for Sectionals, but were unable to make the trip.
Lansing players performed excellently at sectionals with Ashley Bell taking home Bronze, Sierra Stallmann taking home Silver, and Liam McGreevey taking home Gold!
v7i21