After a few days rest due to what else but more rain, the Bobcats hosted Moravia as they journeyed over the hill to Lansing for a double header on one of our first beautiful and sunny 70 degree Saturdays. The Bobcats improved their record to 7-1 using a barrage of strike outs, good gloves in the field and their bats swinging well.
In the first game, Moravia came prepared to play but was not a match for the Lansing team coming off their loss and wanting the sticky mud of defeat cleansed from their cleats. Greg Lee hurled 51 pitches for 4 scoreless innings. He handed the ball off to Craig Moster to close the fifth inning with 18 pitches; four up, three down, three K's and a walk. Game over. The Bobcats pitching and solid defense held Moravia to only four hits and zero runs. Patrick Judd's two RBI doubles and an RBI single, along with Dominic Tarallo's RBI single, Danny Horne's RBI single, and a few other singles and walks provided Lansing with the eleven hits and nine runs that would grant Lee with the win. Lansing 9, Moravia 0.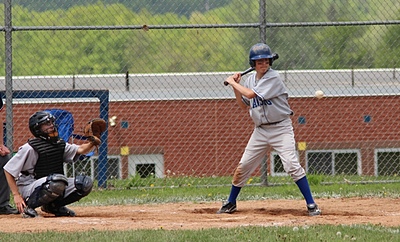 Game two of the double header was a different battle. Moravia tightened up their defense and held Lansing to only 9 hits and 6 runs. Jared Strait went 3 for 3 with 2 lead off singles and another single which set up Tarallo for a 2 RBI single. Moravia found their bats and Lansing's defense committed three errors in the first inning. This allowed Moravia to take the lead 2-0. Strait finished pitching strong by taking down their eighth, ninth and tenth batters in the second inning but the damage was done and he didn't get the win. With the assistance of his infield, Corbin Atkins came in and took out the top of Moravia's order 1-2-3. He pitched the third and held Moravia to no hits and only one run. This gave Lansing's batters a chance to tack on three runs and earned him the opportunity at a win.
Moravia gave one last offensive surge bringing the score to within one in the last inning. With the tying run on third and the winning run on first, Coach Cheatham called in the Lefty. Lee handled the pressure like a left handed Mariano Rivera; he threw six pitches to their number one batter. Moravia's batter stayed tough and fouled the first five pitches off. With the count 0 and 2 Lee got him to swing at a fastball, low and outside. Atkins picked up the win and Lee took the save. Final score, 6 - 5, Lansing.
Trumansburg arrived in Lansing ready to play but, they ran straight into a meat grinder of K's. Moster started off the game with three innings of powerful wildness. He threw hard strikes right down the middle that only two of Trumansburg's batters could even touch. His control was off just enough to keep them guessing and worried. Seven K's and two ground outs later Moster turned things over to Atkins. He proceeded to handle all six outs for the two innings. Atkins added three K's, two put outs at first and one unassisted out at first. In the sixth inning Strait took the ball and leveled the three, four and five batters all with strike outs. Caleb Moseley came to the mound for his pitching debut. He started the seventh inning a little rough but settled in with two K's, one ground out, one run and no errors. Moseley is the smallest player on the team but, with his chest puffed out, he looked six feet tall as he stepped off that mound receiving high fives and attaboys from his teammates.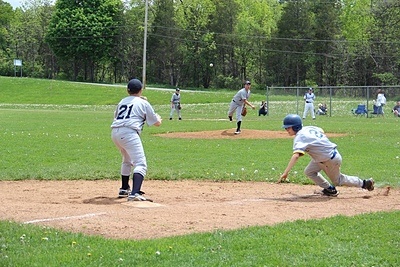 On the offense side of game for the Bobcats it was discipline at the plate and a few key hits that carried them through the game. After holding Lansing to two hits, two walks and only one run in the first two innings, Trumansburg's pitcher finally started to wear down. Brandon Mikula, Lee, Logan Osterman, and Judd all drew walks. A few stolen bases and a passed ball set up Brandon Davis for an RBI double and Moster with an RBI single. Scoring six runs in the third, Lansing never looked backed. Moster took the win with a final score of 9 - 2, Lansing.
The players made a few errors but they vowed not to repeat them and that quickly turned those mistakes into lessons. Even with the errors all of the boys played extremely well and developed further towards their goals of playing on the Lansing Varsity Baseball team, a state championship, playing on at the collegiate level, and who knows, maybe, just maybe, the MLB.
v7i21