The Lansing boys 10U baseball team had a very successful 2011 season and came into the last game, away, against a talented Ithaca team on August 3rd. Up to that point, the Lansing boys had a record of 12 wins, 2 losses (both losses by a margin of one run) and hoped to close out the season with a win against a tough Ithaca team.

This was the second game against Ithaca and they were looking to get even after losing at Lansing in 9 innings a few weeks before. After trading runs in the first inning, Ithaca pulled ahead 8-6 by the third inning on some key hits, bad hops and a little help from our boys. Then the bats went quiet and both teams posted a total of one run each in the 4th and 5th innings.


At the top of the sixth inning, Ithaca was up 9-7 and had last bats in case Lansing slipped past them. Being down two runs at this point was a real challenge for Lansing as the inning opened deep in the batting line-up. Unfortunately, the first 2 batters struck out. But then a walk, a hit batter and an error helped Lansing load the bases. The last batter in the line-up had two strikes and it looked like Lansing was going to leave the bases loaded. But just when things looked really bleak, the batter connected on a base hit and scored two runs to tie the game.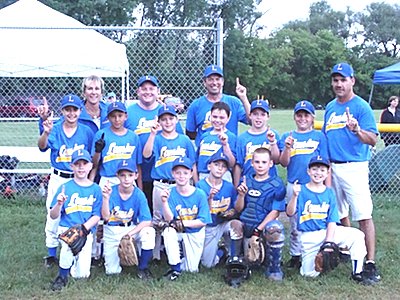 10U is Number One (picture courtesy of Karie Allison)
Going to the top of the order, possibilities improved, but Lansing was not out of the woods yet. After stealing second base, the next batter walked and loaded the bases again. Then number two batter drove a base hit and another run scored giving Lansing a 10-9 lead but before the play finished, Ithaca was able to throw a Lansing runner out at third base, killing the rally and forcing Lansing to take the field with a razor thin lead. Fortunately, laser accurate pitching in the bottom of the 6th allowed Lansing to retire the first three Ithaca batters with 9 strikes in a mere 11 pitches and seal the come-from-behind victory.

This game really showed the character of the Lansing team. Throughout the season, the group rarely trailed in any game, outscoring opponents 183-103, but when the chips were down in this final game, the boys gutted it out and were able to make key plays, hits and pitches to pull out the win, and they learned a lot about never giving up in the process.

Head Coach Fran Bell said, "The boys had a lot of baseball skills when we started and they improved even more over the travel season, but the most important part is that they learned to play as team. I could not be more proud of them."

Team members included Aidan Allison, Kyler Allison, Owen Allison, Will Czymmek, Caleb Wilder and David Waldman (going into 6th grade), Garrett Bell, Clayton Teeter, Ben Caveney, Josiah Letts, Luke Winslow (going into 5th grade) and Kevin Patt, Sean O and Gill Richardson (going into 4th grade). Coach Bell was assisted by Grant Wilder, Doug Caveney, Brian Richardson and Karl Czymmek.

v7i34