Lansing saw another successful athletics season this Fall with the varsity boys soccer team and Lansing swimmer Adele Ferris making it to the state championships.  The soccer team finished 21 and 1, making it all the way to the finals, where it was defeated by Port Jefferson for the second year in a row.  The team was given a Sportsmanship Award, and coach Adam Heck was named Coach of the Year.
Ferris, a sophomore, placed 8th in the 200 individual event, and competed in the 500 IM at the Icatha College pool.  She shaved time off her previous 500 IM.  Going in she ranked in the 30s and cut it down to take her into the top ten.
"She demonstrated great sportsmanship," says Lansing School Superintendent Chris Pettograsso, who watched Ferris compete.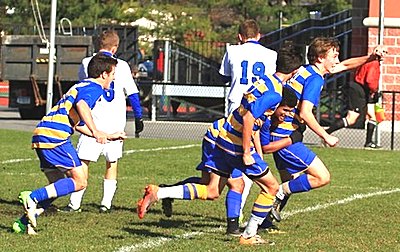 This was the second year in a row the Boys Soccer Team made it to States.  Last year they lost to Port Jefferson in the semi-finals.  This year they made it to the finals, but the same Port Jefferson player who scored the winning goal last year scored again, making Lansing New York's #2 team for 2012.  The score was 1-0.
"They're the same team that beat us in the semi-finals last year," says soccer coach and Lansing Athletic Director Adam Heck.  "In the last two years we've accumulated a 41 and 2 record, and Lost to Port Jefferson both years to end our season.  It was disappointing, but at the same time it was a very, very rewarding season.  The guys were league champions, sectional champions, regional champions, and state finalists.  I'm extremely proud of that."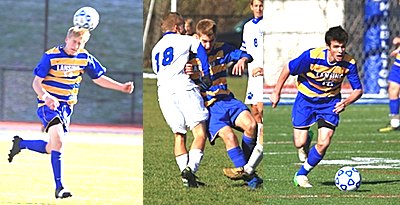 The night before the final game the Lansing team presented a $1,000 Walmart gift card to the Port Jefferson team.  The Long Island community was hit hard by Hurricane Sandy, which is estimated to have caused $20 billion of damage along the eastern seaboard.  The lansing team having trouble scheduling a bus to go to States so the parents raised about $1,000 toward hiring a charter bus.  At the last minute a Lansing driver came available.  The parents decided to donate it in the form of a Walmart gift card at the Saturday night dinner.
"The athletic Director from Port Jefferson personally thanked Lansing and the parents for what they had done," says Lansing High School Principal Eric Hartz.  "They had a family picked out that had lost their entire house.  Kudos to our parents, our kids, and our players.  It was a really special weekend all the way around."
Heck was named New York State Small School Coach of the Year.  He was also named Region II coach of the Year, which makes him a finalist for National Coach of the Year.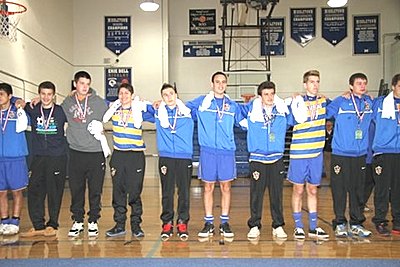 The soccer team will lose 11 seniors after this year.  Heck says a number of returning players will assume the vacated roles on the team.  Heck credits "great assistant coaches" with the ongoing success of Lansing teams.  He says consistency at all teaching levels makes the Lansing program "reload" rather than "rebuild" when it looses senior players.
"They work with our kids throughout the year," he says.  I think that sometimes goes unnoticed.  A guy like Dan Cheatham coaches indoor, and outdoor in the Spring.  He's also our Modified coach.  He's a workaholic and he loves the game.  Our program wouldn't be where it is without a guy like him.  Diane's assistant Shelly Matheny was a huge help to her.  I know she would be the first to say she couldn't have done it without Shelly."
Girls Swimming coach Diane Hicks-Hughes is an accomplished coach whose league record was 292 wins 34 losses for Girls' Varsity Swimming & Diving in 2010.  Heck says the team was rebuilding at the beginning of this year, but rallied as the season progressed.  In mid-season Lansing lost to Dryden, but then beat them to win the IAC Championship.
"We're lucky," Heck says.  "Diane shows a great deal of passion and dedication for her sprot.  That's why she's such a great coach."
Ferris was recovering from a back problem.  Heck says some doctors had questioned whether she would recover enough to be able to compete in athletics at all.
"To see her push through that... here she is not only doing a wonderful job competing, but putting her best foot forward and placing in State," Heck says.  "It's truly amazing to see her persevere like that.  Her family was supportive and got her back in the water as soon as she was cleared.  And I would assume the water is some of the best therapy for it.  It's truly an amazing story."
---
Soccer photos by Richard Warkentin

v8i45