On a blustery February 20th evening, one thing was for certain, the Bobcats were going to be victorious this evening, you could bet on it!   The #11 seed Bobcats of Bainbridge-Guildford (BG) were making their hour and a half long trip to take on the #6 seed Bobcats of Lansing. This first round contest had all the beginnings of a first round upset. Down 24-13 after the quarter one and 32-15 at one point in the second, the home town Bobcats rallied for some long awaited sustained momentum.
Brooks Harmon and Austin Bauerle (nearly 19PPG average) literally couldn't miss early on for BG. Lansing began to establish its inside presence and a much needed dose of optimism with help of Center Jack Stevens in the second quarter. As quick as the lead was beginning to seem insurmountable, the halftime deficit for Lansing was cut to 35-32.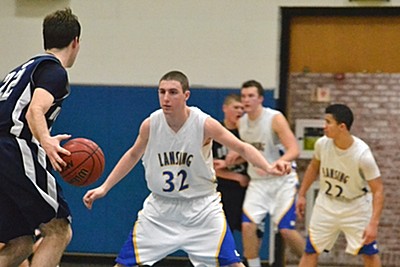 Despite picking up a fourth foul just before half, BG big man Bauerle still led all scorers tallying 26 points for the game. Lansing maintained their running ways with inside baskets and a balance of timely deep shots  to outscore BG by eleven in the period. Ellington Hopkins scored 16 of his 17 points in the second half.
For the game,  Thomas Towner contributed 15 and Stevens 10 for Lansing. The depth of the hometown Bobcats  was apparent as the game went on.  Senior Thomas Lange and Sophomore Logan Osterman recorded scoring contributions in Lansing's come from behind 72-52 win.  Andrew Maul is pictured.
Next up for the Lansing boys is a trip down Route 13 to pay a visit to third seed Elmira Notre Dame (15-3) this Saturday 2/23 at 7pm.
On other Lansing notable sports news, the Lady Cats play a second round  basketball game at home this Friday 2/22 versus Newfield.   Two #1 NYS ranked Bobcats, Connor Lapresi and William Koll are vying for State wrestling championships in Albany this weekend.  I was told to check out www.newyorkwrestlingnews.com for live coverage.
Oneonta got a first hand taste of Lansing hospitality and generosity when boys basketball scorekeeper Dave Hatfield served BBQ chicken, pulled pork, mac salad and potatoes immediately following the boys non-conference home win versus Oneonta last week.
v9i7