Stepping back into the 18'th century is as easy as walking through the door to the
Pineville Tavern
. From the foot thick stone walls of the original 1742 building to the antique woodwork to the oilcloth tablecloths, it is a refreshing step back in time.
Cold outside with a bit of snow on the ground, the warmth of both the staff and the other patrons let us know this would be a delightful experience. Cozy, quiet but not stifling, smiles from families and couples and a medley of aromas hinted at the culinary treats to come.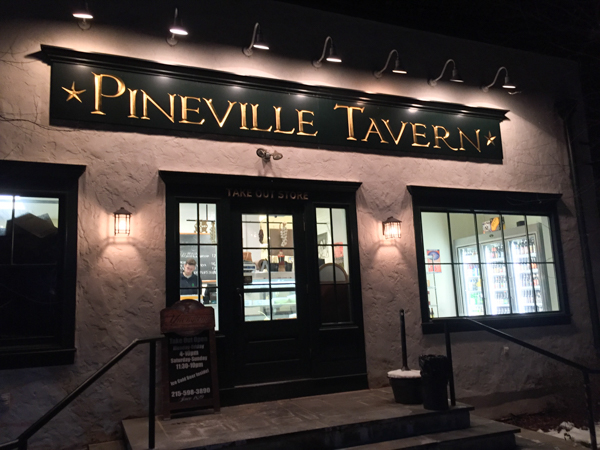 Looking around, I saw the wiring on the ceiling, just as it was installed. Two wires strung across the beams to the antique lights looking pretty much as they did when the tavern was first supplied with electricity. The walls had some of the stonework peeking through the stucco revealing the strength and age of this historical structure.
The our server was attentive without being pesty. Every time we needed her she appeared yet seemed to appreciate that ours was to be a "private" outing. The fare ranges from hand-made personal pizzas to ribs to scallops. The best starter (IMHO) is their signature Snapper Soup. Having never tried Turtle soup before, I was a bit cautious - but my misgivings were short lived. The delightful softness and taste of the meat with the brown sauce, filled out with celery, carrots and spices made it a dish I'll have again, every trip to Philadelphia!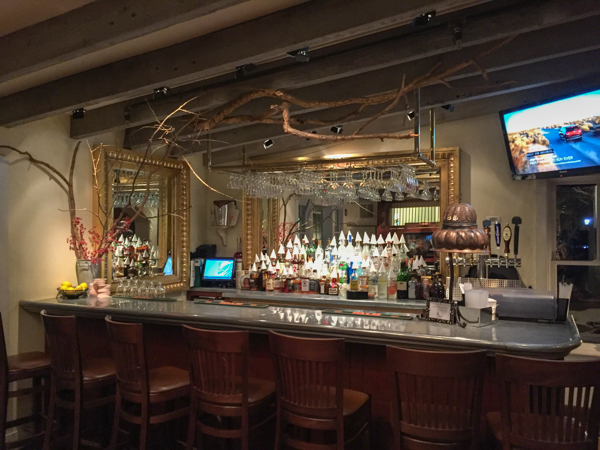 My choice for the evening was the Pesto Crusted Atlantic Salmon, cooked gently and thoroughly yet moist and tender. Vegetables change with the season and are presented with an old world flair; informal yet with understated value. Imagine being a friend of the 1800's local justice, treated as a treasured friend. Even the rice pudding was special, topped with whipped cream and cinnamon... And I heartily recommend the hot buttered rum. Maybe a second one, please… The restaurant was filled, but still quiet enough to have a private conversation with friends over a glass of Riesling.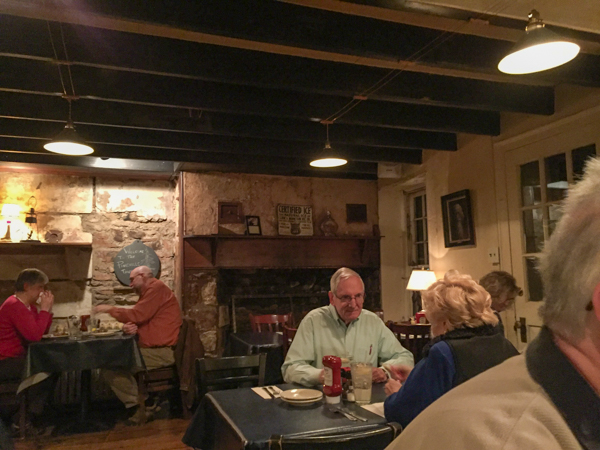 Entrees range from $18 to $35 keeping it within range for a special night out, with sandwiches and burgers available for less. The cost is very reasonable making the Pineville Tavern appropriate for families all the way to connoisseurs.
The Pineville Tavern is in Pineville PA, about 20 miles north of Philadelphia, and well worth a special trip if you're visiting that neighborhood. Call ahead to make reservations at 215-598-3890.
Ok, it's not around the corner, but if I can get there, it is absolutely within reach!
---
'Within Reach' highlights the food, wine and fun of places 'within Reach' of Lansing NY. Of course, your reach extends exactly as far as you want it to. I am
Monroe Payne, Uncle Monte
to some. Come with me as I visit, taste and play in our own back yard, the beautiful Finger Lakes of Central New York.
v12i43