The IYHA PeeWee 2 team, comprised of 9 Lansing residents, returned after a long holiday break to face two opponents last weekend with mixed results.  The first game found the PeeWees on the road Saturday, facing the Elmira Jackals at the home of the ECHL Elmira Jackals.
The game was a one-sided affair with the PeeWee 2 team scoring 5 times in the first period against a young and inexperienced Elmira squad.   Damian Valent led the charge with 3 goals and an assist over three periods dominated by the IYHA skaters.
Additionally defensemen Colin McClure and Sean O'Neil each scored from the blue line.  Goaltender Ryan Besemer was able to turn away all 17 Elmira shots to record his third shut-out of the year.  The final results had IYHA Peewees walking away with a 9-0 victory.
The second game of the weekend found the IYHA team facing the CNY Warriors, a select team based in Fulton at Cass Park on Sunday.  CNY jumped out to a 2 goal lead with goals at the 10 and 8 minute mark in a battle where each team had numerous even man rushes and sharp passing by both teams.  With 5 minutes to go, Jack Babuka was able to score on a wrap around goal to breathe life back into the Peewee 2 team.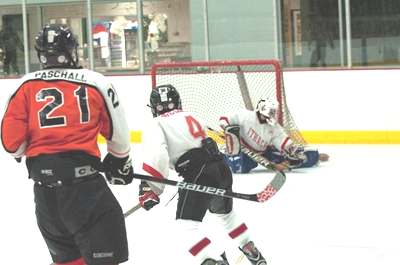 Coming out in the second period, the PeeWee 2 team found themselves in a hole when a double minor infraction was accessed to the team.  Unable to hold off a potent CNY power play squad,  the IYHA Peewee 2 team quickly found themselves down 4 to 1 after man-down play.
In the third period,  Ryan Bishop beat the Warriors goaltender in the third period, however that goal wasn't enough to build any momentum to build.   The IYHA Peewee 2 team was handed their first full team loss of the season.
The team finds itself on the road this weekend, facing league play at Morrisville on Saturday and another non-league friendly in Rochester.
v8i2