The Lansing Girls Basketball team improved their record to 12-1 on the year following wins at Union Springs and at home against Moravia last Friday.
At Union Springs the Ladycats defeated the Wolves 56-16, with Colby McCartney leading the way with a team high 10 points and 12 rebounds. Maura McCartney chipped in with 9 points and Carlene Fields added 8 points to a balanced scoring attack that saw all ten players score.
Shanna Shaff and Shea McCartney each had a team high 3 assists, while Shaff led the team with 4 steals. The entire team played solid defense as they limited Union Springs to 4 points in each quarter.
At home the Ladycats played one of their better games defeating Moravia 63-31. Taylor Policay led the way with 14 points, while Colby McCartney and Shanna Shaff each had 11 points and Maura McCartney had 10 points. Colby McCartney had a team high 5 reboundsand 3 blocked shots, while Shea McCartney had a team high 6 assists and Shanna Shaff had a team high 4 steals.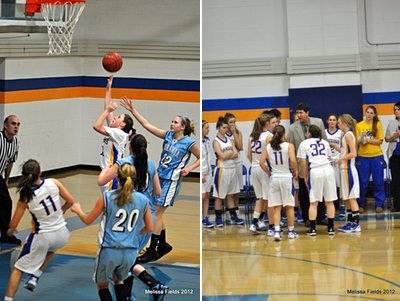 The team played outstanding team offense as they registered 21 assists on 28 field goals, with 7 different players with at least 1 assist and the team shooting 53% from the floor.  The team played great team defense limiting Moravia to 22% shooting for the game, while forcing 23 turnovers.
The Ladycats return to action on Friday as they travel to Trumansburg for a key Divisional game.
---
Photographs by Melissa Fields
v8i4