Obituaries | Thursday, April 09, 2009 | By Herson Funeral Home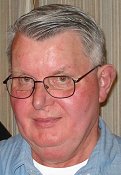 Danby – Robert O. Sundquist, age 69, of Danby, died Sunday morning at Hospicare after a courageous battle with cancer. His recent battle, like his life, exemplified courage and determination, as in the Finnish concept of SISU. Bob was born in Ithaca, the son of the late Mildred (Ollie) and Onnie Sundquist. Bob graduated from Cascadilla School and was a well self-educated individual. He served in the U.S. Marine Corps and was a gifted landscape artist.
With his gentle, kind, and quite spoken demeanor, Bob was a beloved son, brother, cousin, and friend. He is survived by his siblings, Joseph, Marian, and Helen. As "Uncle Bobby" he was a steadfast man who was a fatherly figure to many of his nieces and nephews. He will be greatly missed especially by the current youngest 'lights of his life,' Anthony Neal Imani Solomon Sundquist and Richard ("Little Ricky")William Sundquist III.