Obituaries | Wednesday, September 10, 2008 | By Herson Funeral Home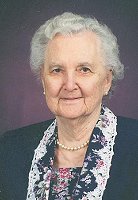 ITHACA - Pearl Etta Calkins, age 89, of Ithaca, went to be at home with her husband and The Lord, on Monday evening at Beechtree Care Center. Pearl was born in Burdett, the daughter of the late Charles and Eva Finkenbinder. She was a 1937 graduate of Spencer High School.
Pearl loved music and often played the piano for her church. Pearl will always be remembered for her witty comments; People would ask Pearl, "How are you feeling today?" of which she would reply, "With my fingers." Other precious comments could not be published however people who knew her will be smiling.
Survivors include her three daughters, Eva (William) Siegard, Sharon Calkins, and Denise (Kenneth) Murphy; two sons, Charles (Linda) Calkins, and Roger (Sharon) Calkins; daughter-in-law, Gaye Calkins; 18 grandchildren; 21 great-grandchildren; and many nieces and nephews.