Obituaries | Tuesday, June 08, 2010 | By Lansing Funeral Home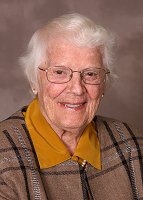 Lansing, NY -- Louise May Barr, age 90, passed away Sunday, June 6, 2010 at Cayuga Medical Center.
Born September 28, 1919, in Cleveland, Ohio, Louise was a daughter of the late Ada (Huntley) Barr (deceased) and David Winfield Barr (deceased), and sister of Helen Barr Battin (deceased) and Betty Barr Lemmon (deceased). A 1942 graduate of Hillsdale College in Michigan, she was employed in the Pathology Department of Western Reserve University Medical School until 1949 when she moved to Ithaca. She started employment in the Pathology Department at Cornell University's Veterinary College in the Clinical Pathology Lab instructing Senior year veterinary students and then in Electron Microscopy, where she was first to identify and photograph the feline leukemia virus. During her professional years Louise was president of the Alpha Chapter of Women in Science. She retired in 1982 and has since lovingly cared for the Barr Family Homestead in Ludlowville.