Obituaries | Sunday, August 04, 2013 | By -Staff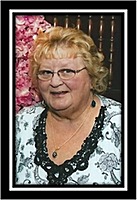 Sandra J. Kane, 69, passed unexpectedly at home Saturday, August 3, 2013 with her family beside her.
Born January 12, 1944, Sandy grew up in Lansing, NY where she graduated from high school in 1961. She met and married her soul mate and best friend, Bill, on May 25, 1963 after which they spent 50 wonderful years raising their beloved children. Sandy worked at Cayuga Medical Center's Billing Office for 34 years. She loved to travel all over the world, especially with her Q Country friends, to places like the Dominican Republic, Cancun, and the Bahamas.
Sandy is lovingly survived by her husband of 50 years, Charles "Bill" Kane; her son Jeffrey Kane (Leslee) of Groton; her daughters Lisa Kane Kanellis (Peter) and Tracy Kane Smith (Douglas) both of Lansing; four wonderful grandchildren, Justin Kanellis (Jennifer) of New Jersey; Katie Kanellis Kramarsyck (Adam) of Boston; Cassandra of Virgil; and Travis Smith of Lansing; as well as her wonderful kitty, Sunshine, who she loved so much.