Obituaries | Monday, September 29, 2014 | By Lansing Funeral Home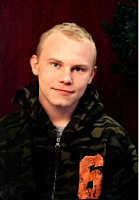 Lynn Martin Eastman III passed away as the result of an accident on September 27, 2014, at the age of 19. 
Born January 28, 1995 in Ithaca, Lynn was the son of Lynn M. and Rebecca Barber Eastman, Jr. He enjoyed his job, was eager to learn, and was beginning to excel as a welder with Innovative Metals in Locke, NY.  He loved to hunt and fish and was looking forward to the upcoming bow season.  Lynn was a kind person and enjoyed helping out family and friends.  He had a soft spot for animals, especially his cat, Jack, and dogs, Jake, Travis and Buddy.  A loving caring son, brother, grandson, nephew, cousin and friend, Lynn will be missed more than words can describe.