Obituaries | Sunday, September 02, 2018 | By Lansing Funeral Home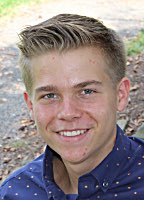 So many memories but not enough time. Karl William Czymmek, best known by family and friends as Will, passed away on August 28, 2018, just one day short of his eighteenth birthday.
He leaves behind a large grieving family. Two older sisters, Meredith and Madeline, and his parents, Karl and Anne Czymmek. His grandparents, Karl and Joyce Czymmek, his uncle Kirk and aunt Martha Czymmek, his aunt Maria and uncle Dana Paddock, his uncles Kent and Kyle Czymmek, his uncle Michael and aunt Kate Balcolm-Mattson, his uncle Mark and aunt Kim Mattson, his aunt Amber and uncle Peter Heimbucher, his aunt Amy Phelps, and many cousins.