Obituaries | Monday, September 16, 2013 | By Lansing Funeral Home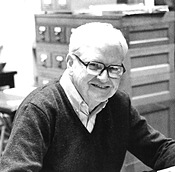 Henry B. Cowan, Jr., of Kendal at Ithaca, passed away Friday, September 13, 2013, at the age of 88.
Born December 16, 1924, in Trenton, NJ, he was the son of the late Henry B. and Pauline (Gamble) Cowan, Sr. A graduate of Haverford Township High School, Haverford, PA, Henry proudly served with the U.S. Army from 1943-1945, after which he earned his Bachelor of Arts and Master of Arts in English from the University of Pennsylvania. He taught English and was Academic Dean at Blairstown Academy, Blairstown, NJ, from 1949-1987, and was an adjunct instructor at Tompkins Cortland Community College from 1987-1992.