Obituaries | Sunday, August 14, 2016 | By Lansing Funeral Home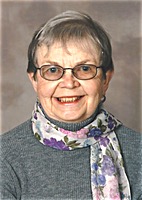 Katharine C. "Kate" Payne, 87 of Lansing, passed away August 10, 2016. Born in Towanda, PA on October 11, 1928, Kate was the daughter of the late Lawrence H. and Victoria (Jonas) Conlon, Sr. A graduate of Waverly High School, Kate attended Keystone College where she earned her Associates degree in Medical Secretarial Science and met her future husband, Thomas G. Payne. She then went on to earn her Bachelors of Science degree from Iowa State University in 1951.
In 1950 Kate and Tom were married and spent their summer in Ithaca, NY, which ultimately led them to the decision of settling in this area. Kate valued her career as an elementary teacher with the Groton School District where she retired from in 1984. An active member of the Lansing United Methodist Church, Kate also enjoyed the role of church historian for many years, she was a member of the Haiti Committee and played in the Ithaca Concert Band.