Obituaries | Wednesday, June 17, 2015 | By Lansing Funeral Home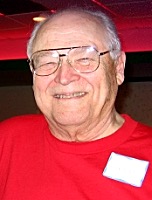 Grey Theodore Larison was born on May 30, 1925, in Elmira Heights, NY, the first born son of Ted and Louise Larison. He died on April 10, 2015, at Hospicare in Ithaca, New York.
He was named after his maternal grandfather, Grey LeValley, thus beginning the habit of naming the oldest boy child in each family or generation with the same first name. Grey's middle name is taken from his father's. The next in line was Grey Richard, born to Grey T. and Virginia November 1946. Next was Grey William, born to Grey Richard and Jan in 1975. The most recent was Grey Michael, born 2011, to Grey William and Amie. One of the most successful photo shoots ever was one in which Grey was on the other side of the lens. "The Four Greys" gathered in Detroit in August, 2013, and posed for cameras operated by wives.
His earliest memories, from about the time he was learning to walk and talk, were of his maternal grandmother, Ethel LeValley, introducing him to the natural world around Elmira. She and his Grandfather Grey LeValley continued tutoring him throughout their lives.