Obituaries | Thursday, February 12, 2015 | By Lansing Funeral Home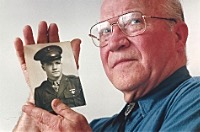 Robert C. Boda, 88 of Lansing passed away February 5 after a long battle with cancer.  He was born September 6, 1926 and lived in Danby most of his life. He graduated from Ithaca High School in 1944, played football and was a wrestling champion.  Robert was a proud marine and served his country from 1944 to 1946, fighting on Okinawa and serving in China for 2 years.  September 10, 1949 he married his high school sweetheart, Ina Tyler and celebrated their 65th wedding anniversary this year.
He was predeceased by his parents, Raymond Boda Sr. and Nora Sabin Boda; brother, Raymond Boda Jr., his wife Lillian;  youngest sister, Roberta Beach and brother-in-law Earl Andrews.