Obituaries | Friday, December 20, 2019 | By Lansing Funeral Home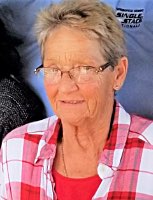 Patricia Gail Putnam, 73, of Lansing passed away while surrounded by those she loved on Thursday, December 19, 2019, at Cayuga Medical Center, Ithaca. Born on August 5, 1946, she was the daughter of the late Walter and Olga "Ollie" (Geiger) Holden. Pat was employed as an aide at Lansing High School and went on to retire from the Lansing Residential Center, where she worked as a corrections officer and made an impact on many people with whom she worked. She proudly gave up some of her dreams to be a stay at home mother and raise four beautiful children.
In her free time, Pat enjoyed sewing and painting. She also had a love of animals, especially cats and dogs.