Obituaries | Saturday, January 28, 2017 | By Lansing Funeral Home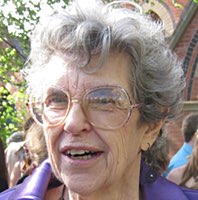 Janet Irene Morse Dean of Lansing, NY, died peacefully on January 26, 2017, at the Cayuga Medical Center, Ithaca, NY, comforted by her four children and daughter-in-law, following a brief illness. She was 92 years old.
Born August 10, 1924, in Freeville, NY, Janet lived most of her life in Ithaca and never lost her love for the Finger Lakes. Adopted by Helen (Lincoln) and Carl Morse at the age of six months, she spent a joyful youth on South Hill. Helen and Carl subsequently adopted her younger brother George as well. Mary Gridley Allaben remained a life-long South Hill friend. Janet's mom married Irving King following the death of her first husband. Janet regaled her children with stories of many happy family summers during her childhood on Owasco Lake, NY and Lake Massasecum, NH.