Obituaries | Wednesday, February 08, 2012 | By Perkins Funeral Home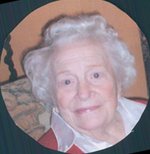 Ethel B. Kennaugh, age 100 passed away on February 6, 2012 at Bridges Cornell Heights in Ithaca, NY.  Ethel was born on August 23, 1911 in Queens, NY, the daughter of the late Edward A. and Rose End Blakelock.
In 1934, she married William F. Kennaugh in the Richmond Hill Methodist Church in Queens, NY.  He predeceased her in 1993.  After their marriage, they moved to Delhi, NY where Bill became associated with Delhi Tech (now SUNY Delhi) and Ethel worked as a stenographer in the County Social Services Department.  After raising a family and living in Delhi for 50 years, they moved to Ithaca, NY to be near their daughter.