Obituaries | Tuesday, October 04, 2011 | By -Staff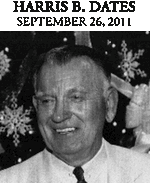 Harris B. Dates, of North Fort Myers, Florida and Lansing, New York, died peacefully after a short illness on September 26th, 2011.
Mr. Dates is survived by his loving wife Betty, three children; Sylvia (Eric) Averill, East Bridgewater, MA, Diane (Roger) LaLonde, Lansing, NY, Steven Dates, Lansing, NY, five step-children, nine grandchildren, four great grandchildren, nieces and a nephew.  He was predeceased by his first wife Clara (Stevie) Dates, his sister Marietta Fenner and his brother Bryant Dates Jr.
Mr. Dates was born on June 4, 1916 in Lansing, NY.  He was a long time employee at Cornell University and also served as Town of Lansing Supervisor and Tompkins County legislator for many years before retiring to North Fort Myers.