Obituaries | Monday, March 26, 2012 | By Perkins Funeral Home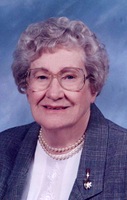 Anna Moravec, age 93 of Ithaca died Friday, March 23, 2012 at Beechtree Care Center in Ithaca, NY.
Born March 26, 1918 in West Dryden, NY she was a daughter of the late August and Emma Vesley Kozel and wife of the late James Moravec.  She was a graduate of Ludlowville High School, class of 1936 and had been employed with the NYS School for Girls in Lansing prior to her retirement.  She was a member of the Pythian Sisters, Northeast Home Demonstration Unit and St. John's Episcopal Church where she was very active in church activities.