Obituaries | Wednesday, February 13, 2013 | By Lansing Funeral Home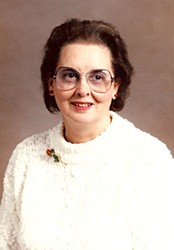 Floy Ann Bowman Starks Hunter passed away February 11, 2013. Floy Ann was born June 15, 1925, in Norborne, Missouri, daughter of the late Edmond Newham Bowman and Grace Austin Bowman. Leaving severe drought conditions in Missouri, as a baby, Ann and her parents traveled to Ludlowville, NY in a 1920's touring car. Edmond's uncle, Frank Keim, told him there were lakes, trees and jobs in New York State.
Ann started school in the one-room Drake Schoolhouse on Route 34B, and was a 1943 graduate of Ludlowville High School. She was a member of the King Ferry Church of the Brethren until its dissolution. She lived and worked in Ithaca, NY, North Carolina and Rochester, NY, before retiring from Blue Cross Blue Shield in Rochester in 1991. Ann was active in bowling and golf. Books and reading were a loving pastime, even buying books at an early age to teach herself to tap dance and play the guitar.