Obituaries | Sunday, July 11, 2010 | By Lansing Funeral Home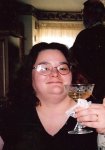 Allison Faith Selby Stratton, age 33, passed away after a brief illness on Saturday, July 10, 2010, at her home in Johnson City, NY.
Born January 17, 1977, in Ithaca, NY, Allison was a daughter of Vaughn and Arlene (Fenton) Selby, who survive her. She is also survived by her husband of over three years, Paul D. Stratton; a sister, Mary (Steve) Seymour of Lansing; two brothers, Orry Ray and Jonathon Selby of Lansing; two nieces; two nephews; as well as extended family and her husband's family.