Obituaries | Friday, August 14, 2020 | By Lansing Funeral Home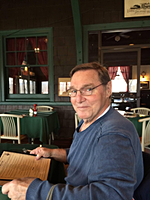 Stephen L. Farkas, 78, of Lansing, NY, passed away peacefully at home on August 11, 2020, after a long fight with kidney disease and dementia. Born on April 16, 1942, Steve was the son of the late Stephen and Nellie (DiGiacomo) Farkas.
After graduating from Lansing High School, Steve earned a Bachelor's Degree in Physical Education from Ithaca College and a Master in Social Work from Syracuse University.
He began his career at Walton High School as a teacher and coach before embarking on a 35 year career with the Division for Youth, first at Camp MacCormick and then throughout the state at various facilities. He also developed and was the director of two youth programs, Adirondack Residential Center and the Adirondack Wilderness Challenge. Steve retired from the Division for Youth in Lansing and went on to serve on the Lansing Town Board and then as Supervisor for eight years. Continuing Steve's service to others, he was a Eucharistic Minister at St. Alexander's Church and a member of the Knights of Columbus, Elks Lodge, Loyal Order of Moose, and Lions Club.